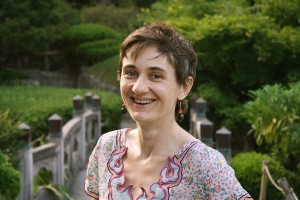 I was trained in cultural anthropology, French studies, computer science and music.
My research and teaching interests focus on digital media activism, information rights, media ethnography, transnational cultures, France and Europe. In pursuing these interests, I bring anthropology into dialogue with media studies, feminist technoscience studies, law studies, and European studies.
My book manuscript, in preparation, explores the experiences of French free software advocates as they reinvent civic engagement around digital media.  Drawing on twenty months of fieldwork conducted offline and online in France in 2004 and 2005, I analyze how intellectual property law and digital media technologies (prime vehicles of "free-market" globalization) have served to invigorate public debates about European integration and the transnational political economy. I also examine the dilemmas of facilitating democratic engagement in expert fields such as software engineering and intellectual property law. More broadly, my work highlights the divergent and often contentious terms on which people across the world use digital media technologies, suggesting that culture and history are key to understanding global digital infrastructures.
My 2010 article, "Contentious Europeanization: The Paradox of Becoming European through Anti-Patent Activism" has appeared in Ethnos: Journal of Anthropology.  My 2012 chapter "Free Software and the Politics of Sharing" (in Digital Anthropology, eds. D. Miller and H. Horst) highlights anthropological contributions to debates about digital media.
I teach undergraduate courses in digital media, global media and methods in media analysis in the Department of Media, Culture and Communication at New York University.
Please e-mail me at jelena@karanovic.org if you have questions. Thanks!